Need Emergency Basement Plumbing Repair? Call a 24 Hour Plumber!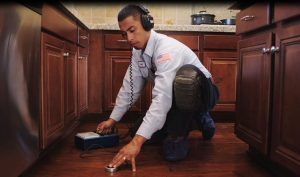 Flooding is an emergency plumbing situation that can is costly to repair and can lead to significant damage to a home's structural foundation. Avoiding emergency basement plumbing repair is something that every homeowner would prefer to avoid. Follow these helpful tips and you won't ever find yourself calling a 24 hour plumber for basement flooding.
Leak Detection Plumbing
The best way to avoid flooding is to pay close attention to buried pipes beneath your home's slab. Ignoring the need for water pipe repair will always end badly. The problem is that many people don't realize there is a problem with these pipes because signs are always visible in the early stages. That is why we recommend that homeowners contact Downey plumbers for regular leak detection plumbing.
Using high-tech leak detection equipment, plumbers can find the tiniest leak capable of doing extensive damage and make repairs the same day. Swift action always saves money!
Basement Plumbing Maintenance
Homeowners can avoid unexpected plumbing problems by maintaining their basement plumbing. If your basement has a sump pump, take care to make sure it is working at all times. The sump pump is a device that can easily be forgotten about because it does its job without skipping a beat – most of the time. Checking on the sump pump to make sure it is working well will ensure that when you need it to work for you that it does without fail.
Keep floor drains clear. This is another important aspect of maintaining basement plumbing. The floor drains in a basement are designed to remove moisture from air conditioning units, water heaters, and water softeners away from the home. If a drain is clogged or there is something blocking access to the drain, this can cause flooding and extensive water damage.
Call a 24 Hour Plumber Right Away!
At the first sign of a problem, call a 24 hour plumber in Downey right away. At Downey Pronto Plumbing and Rooter, we know how important it is to address a situation quickly. We offer affordable basement plumbing repair and replacement service on your schedule by licensed and bonded plumbers. Call us today!